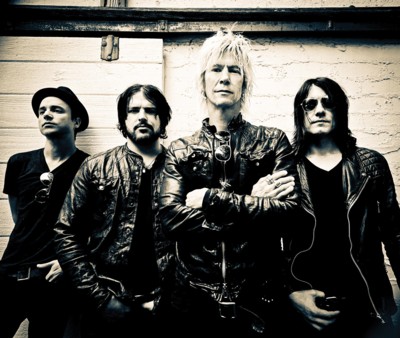 Loaded
Band Members:
Duff McKagan (guitar/vocals)
Isaac Carpenter (drums)
Jeff Rouse (bass)
Mike Squires (lead guitar)
---
Biography:
Born out of frustration with the 'corporate rock' musical landscape created in the late 90's by profit seeking record executives who'd lost all integrity, LOADED formed in Seattle sometime in 1999.
Our sound and credo - Punk rock ethic with a rock n' roll slant that tilts a bit 'left of center. LOADED are here to impress no one; choosing instead to create a safe place where creative minds can flourish.
Musical lineage - Loaded can, at times, remind the listener of early '70's brit-rock and punk whilst always staying one step ahead of what is regarded as 'modern rock' today. Squires plays blues guitar with the flair and extra panache of Greg Ginn of Black Flag. Jeff Rouse will certainly gain much deserved attention for his bass playing on the album 'SICK' (whether he wants it or not). Geoff Reading is the consummate drummer here, bashing when he must, but also articulate with his erstwhile abandon. McKagan pulls up the rear in this group simply because he likes men.
Our history - Although LOADED was formed some 10 years ago, the number of live gigs that they have played does not reflect it's age…until now. LOADED have at long last followed up their thought instilled 2002 release, 'Dark Days', with 'Sick', their tour-de-force penned last summer back in their common ground of Seattle. LOADED needed to get out and play some gigs-the Fall European/Japan tour was booked and the lads have been kicking ass live ever since. LOADED will continue their world tour this Spring/09 with gigs in the U.S., Canada, Europe, U.K., Ireland, and Japan.
---
Discography:
Episode 1999:Live (1999)
Dark Days (2001)
Wasted Heart (2008)
Sick (2009)
The Taking (2011)
---