The Fartz


Blaine Cook (vocals)
Paul Solger (guitar)
Steve Fart (bass)
Duff McKagan (drums 1981-1983)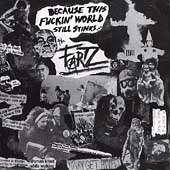 Probably best known as Guns N' Roses bassist Duff McKagan's original band (he was the drummer), and also home to future Accused frontman Blaine Cook, the Fartz were one of Seattle's earliest hardcore punk outfits, attacking governmental and religious corruption, racism, sexism, poverty, and the like. The band's original lineup included vocalist Cook (under the name "Blaine Fart"), guitarist Paul Solger, bassist Steve, and drummer Loud Fart, who was eventually replaced by McKagan. Few Seattle clubs were willing to book hardcore acts during the band's short lifespan, so the Fartz often found themselves scrambling for any exposure or opportunities to perform.

The Fartz' first record release came with a self-issued 7" EP in 1981; Jello Biafra's Alternative Tentacles label put out the Because This Fuckin' World Stinks EP later that year. The band's first full-length album, World Full of Hate, appeared in 1982, but even in spite of modest success overseas (one single reached the Top Ten on the NME's alternative chart), the frustration with Seattle's lack of opportunity took its toll.

After the group broke up, Blaine Cook formed the Accused in 1984, while McKagan moved on to 10 Minute Warning and eventually Guns N' Roses. In 1998, Alternative Tentacles issued a thorough retrospective of the group entitled Because This Fuckin' World Still Stinks. What's In A Name appeared in summer 2001.
Copyright © AllMusic.com. Written by Steve Huey.
---